Roadside facilities and roadside information are essential components of a modern bus system. Across the region, the current facilities do not reflect the standard needed to make the overall system attractive and easy to use.
Under BusConnects we will enhance bus stops in the Dublin region, with better route and fare information and with timetable information specific to each stop. All operators will adopt this style and the current assortment of poles at multi-operator stops will be removed. This new style has been specifically developed to be consistent with new bus livery to provide visual consistency. It has commenced rollout and will continue to be progressively installed in the coming years and has the following features: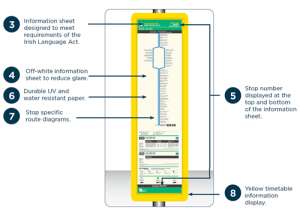 We will install more Real Time Passenger Information (RTPI) signs along the new bus corridors and elsewhere across the region, providing accurate next-bus arrival information.
Bus shelter provision will be significantly expanded as part of the BusConnects plan. A large number of additional bus shelters will be provided in new locations, particularly where connecting services are being provided.