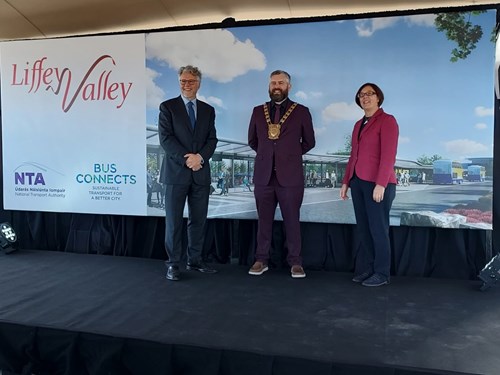 Mayor of South Dublin County Council, Peter Kavanagh today turned the sod on a new bus interchange facility for Liffey Valley Shopping Centre as part of the Bus Connects strategy being rolled out by National Transport Authority (NTA).
Liffey Valley Shopping Centre has been earmarked by the NTA as a key strategic site for the location of the new interchange as part of BusConnects, with the new initiative expected to increase public transport connectivity to the Centre by 50%.
The new €20m facility will create a new hub for bus services connecting south and west Dublin, north Kildare and the city centre and will be located in the Liffey Valley car park just yards from the main entrance to the Centre.
The new interchange will include a feature canopy with 6 bus bays along with a fully accessible set down area, street furniture, passenger waiting areas, real-time passenger journey signage and new public lighting. Buses will use the interchange for set down and pick up, with park-up facilities located to the rear of the Centre.
The CEO of the National Transport Authority Anne Graham welcomed today's news: "BusConnects will be a game-changer for public transport across the city and here in west Dublin. By investing in new services and infrastructure, we can encourage as many people as possible within the Greater Dublin Area to use sustainable transport modes. Today is an important milestone in making BusConnects a reality for communities here in west Dublin and beyond. Located at the very heart of Liffey Valley, this bus interchange will raise the profile of the bus as the transport-of-choice for those travelling to the Centre. But this vital piece of infrastructure is also much more than that. It is about creating a hub that increases connectivity between suburbs and town centres, without having to travel into the city centre. In doing so, we are ensuring that we deliver a high quality and equitable bus system for all our communities into the future. I look forward to returning next year to see the new hub being unveiled."
Managing Director with Hines in Ireland Frank Martin said it BusConnects at Liffey Valley is a good fit: "Liffey Valley is delighted to be collaborating with the NTA on this project at a time when the Shopping Centre continues to go from strength to strength. We are equally delighted to be playing our part in improving public transport connectivity for commuters within the wider Liffey Valley area. BusConnects will contribute greatly towards making Liffey Valley an even better connected, future proofed and sustainable Centre It will greatly enhance the accessibility of the centre for communities within south and west Dublin. This joint project with NTA is the latest investment by the Liffey Valley owners and comes on the back of many recent positive enhancements such as the new Western Plaza, now anchored by TK Maxx and a new flagship store opening by Zara in early November. BusConnects fits in very well with our vision for the future as we envisage a more connected, vibrant and sustainable Centre serving the needs of the growing population of West Dublin."
The new BusConnects interchange will form part of a wider development project underway at Liffey Valley to enhance current car parking facilities and the immediate road network leading to the Centre. These works will result in improved landscaping, pedestrian and cycling infrastructure, new electric charging points, real-time messaging on location of space availability and enhanced public lighting.
The works are expected to be completed by Q4 2022.
About Liffey Valley
Over 80 stores, 20 restaurants/cafes and a 14-screen Vue cinema
2,400 staff members employed across the centre – 54% live within 5k of the Centre.
80,000 sq. m Shopping Centre
Almost 200,000 weekly visitors/ABC1 61%
Liffey Valley has achieved significant trading success in recent years – following a multi-million euro investment programme, initiatives like the new Western End extension, and a Centre-wide responsiveness to evolving consumer market trends which has greatly enhanced the overall customer experience.
About Hines BVK
The Liffey Valley Shopping Centre is managed by Hines and owned by Bayerische Versorgungskammer (BVK), a European Public Pension Fund. Hines is a privately owned global real estate investment firm founded in 1957 with a presence in 219 cities in 23 countries. The firm has 148 developments currently underway around the world. With extensive experience in all property types, and a pioneering commitment to sustainability, Hines is one of the largest and most-respected real estate organisations in the world.
BVK is a modern business enterprise and state authority in one, leveraging a 210 year history. It is the largest public service group in Germany, jointly managing the business of twelve professional and municipal pension schemes that provide old-age, disability benefits for their members and insured clients. BVK has approximately €82 billion assets under management globally.
The combination of Hines as an industry leading asset and development manager, and BVK as a long-term strategic investor, provides an opportunity for certainty, sustainability and quality.