Public Consultation on the Draft New Bus Network
BusConnects Cork is the National Transport Authority's plan to improve Bus Services throughout the city and suburbs. An initial consultation was held in July 2021 and responses helped shape the Draft New Network for the Metropolitan Area, part of the Cork Metropolitan Area Transport Strategy (CMATS).
A second public consultation on the Draft New Network then took place from the 2nd of November to the 17th of December 2021. BusConnects welcomed feedback from the public on the Draft New Network via an online feedback form and email submissions. An analysis of this feedback is now underway and this will inform the publication of a Final New Bus Network later this year.
The New Network will include benefits like; an increase of over one third in bus services in Cork; a new frequent network that paves the way for Luas; shorter waits and more direct routes and additional services at weekends.
The local area booklets from the Draft New Network Consultation and the interactive network map below, provide details of the proposed bus routes in your area and where they will connect to. Also available to download is the full Draft Network Report.
Contact information
If you want to contact us about BusConnects Cork our email address is corknetwork@busconnects.ie. You can also freephone: 1800 303 653
Feedback Form
To view our proposals for the Cork bus network redesign, click on the link below.
View Feedback Form
Network Map
View the interactive network map and learn more about the plans to improve bus services throughout the city and suburbs of Cork.
View Network Map

What is Busconnects Cork
Bus Network Redesign Choices Report – Public Consultation July 2021
An initial round of public consultation for the Cork Bus Network Redesign took place in July 2021. This initial consultation was on a "Choices Report" (which can be downloaded below), seeking feedback from the public on certain choices about the future Cork bus network.

Infrastructure
The specialist technical service providers have been appointed to develop concept engineering designs for the Core Bus Corridors (CBCs) that will support the efficient running of the bus services in the City. They will also include the provision for bus priority and safe cycle and pedestrian facilities.
Once work has been sufficiently developed in assessing the routes, there will be extensive public consultation where the public will have opportunity to have their say on the proposals. It is anticipated the consultation process will begin in the second half of 2021.
BusConnects Cork is a programme of nine measures to fundamentally transform Cork's bus system, so that bus commuting will become a viable and attractive choice for employees, students, shoppers and visitors. BusConnects Cork aims to overhaul the current bus system in the Cork region by: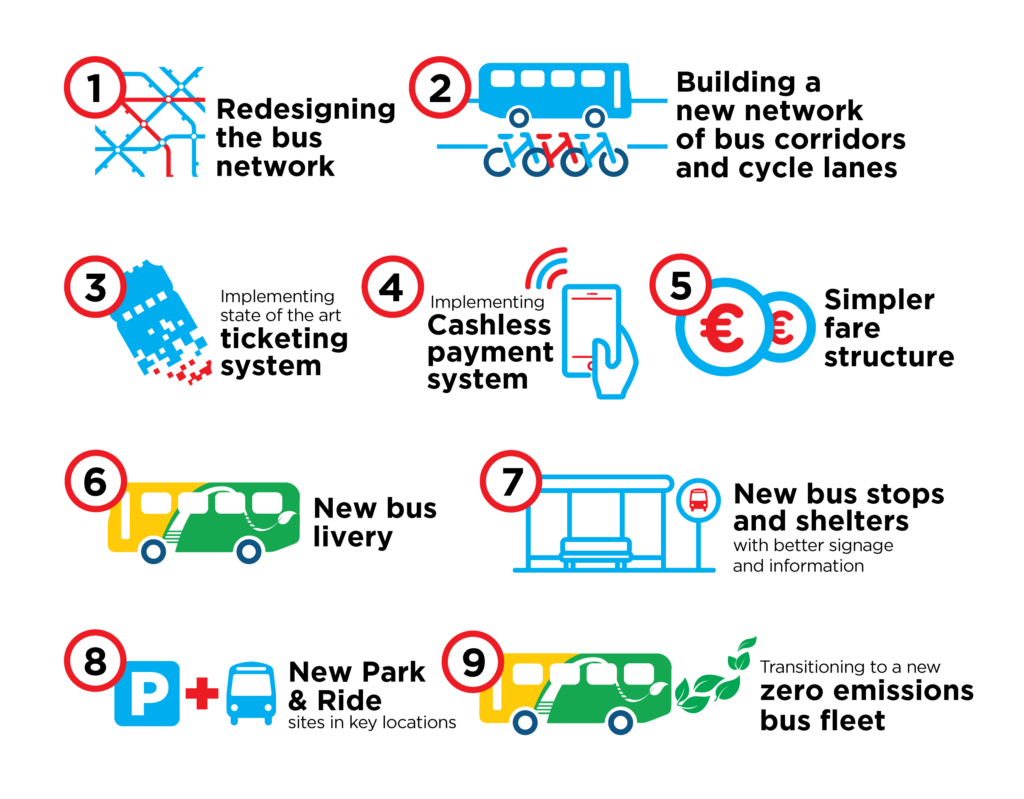 The full Cork Metropolitan Area Transport Strategy unveiled in early 2020 is available at this link