In Dublin, the major infrastructure element of the NTA's BusConnects Programme comprises of 12 Core Bus Corridor Schemes. The aim of the BusConnects Core Bus Corridor Schemes is to provide over 200 km of enhanced walking, cycling, and bus infrastructure on key access corridors in the Dublin region, which will enable and deliver efficient, safe, and integrated sustainable transport movement along these corridors.
Current Status – Core Bus Corridors
The NTA has applied to An Bord Pleanála, for approval in relation to planned developments for the construction of all 12 Dublin Core Bus Corridor Schemes. To minimise disruption to the city, it is planned to stagger the delivery of the schemes with no more than 4 schemes being delivered concurrently. The core bus corridor projects range in estimated cost expenditures from €75m to €300m depending on their length, scope and level of complexity.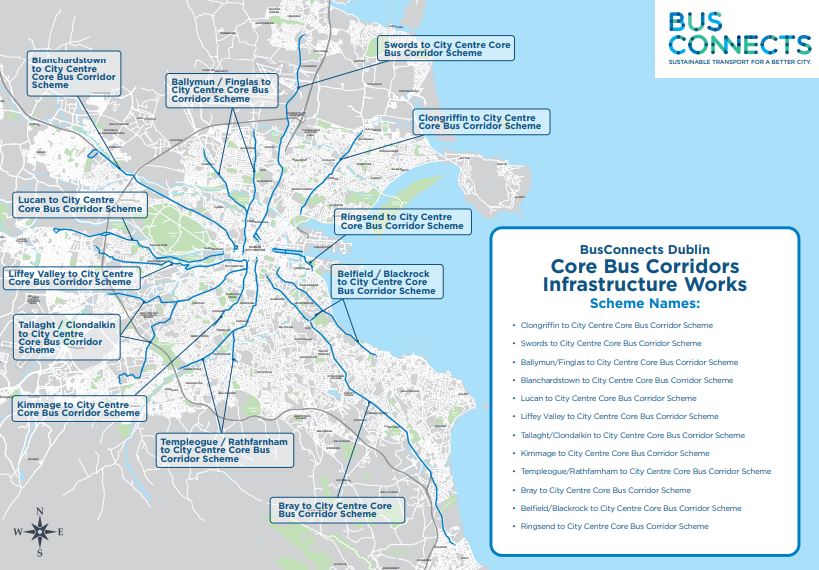 Current Timeline
As the Schemes are subject to an ongoing statutory application process and have not as yet been confirmed by An Bord Pleanála, we are unable at this time to specify a works commencement or completion date. On completion of the statutory process we will be in a position to confirm the construction commencement date.
The Environmental Impact Assessment Report for each Scheme, Chapter 5; Construction, provides an overview of construction timelines once the construction commences. This can be found on each of the schemes websites, links to the 12 websites are on each of the scheme pages which can be accessed by clicking on the down arrow beside the "12 Core Bus Corridor Statutory Applications" tab above.