NTA commences third round of consultation on the sustainable transport corridors for Cork
Updated proposals for eleven sustainable transport corridors as part of the BusConnects Cork programme have been published by the National Transport Authority (NTA) for a third round of public consultation. The latest round of public consultation on the Sustainable Transport Corridors centres on the updated Preferred Route Options for all eleven corridors. This comes following two rounds of public consultation between June and October 2022 and between March and May 2023.
BusConnects Cork is a €600m programme of work that aims to transform the city's bus system, making public transport more accessible to more people. By delivering approximately 91kms of new bus lanes and bus priority and 98km of cycle facilities (one direction) delivering 49km of the cycle network, BusConnects Cork will make travel by bus, as well as active travel, a more attractive option while also reducing carbon emissions and congestion.
Following the second round of public consultation, the NTA has been making refinements along each corridor to take into consideration both the submissions received by the public and ongoing local community engagement. In addition, there has been further technical design work and urban realm improvements along each corridor.
Consultation on the updated proposals runs until Monday, 18 December 2023. A series of public information events will be hosted across Cork city during November. Dates, times and venues are available below. Leaflets will also be delivered to almost one hundred thousand addresses in Cork with information about the consultation. To make a submission and tell us what you think click on the link to our Consultation Portal below in the "How to Engage" section.
All submissions in the third round of public consultation will be reviewed by the NTA. Following this, the NTA will finalise the Preferred Route Options for all eleven corridors. The scheme designs will be further developed and statutory consent applications to An Bord Pleanála will be prepared, inclusive of transport and environmental impact assessments. At this stage, as part of the formal planning application to ABP, there will be a statutory public consultation process also.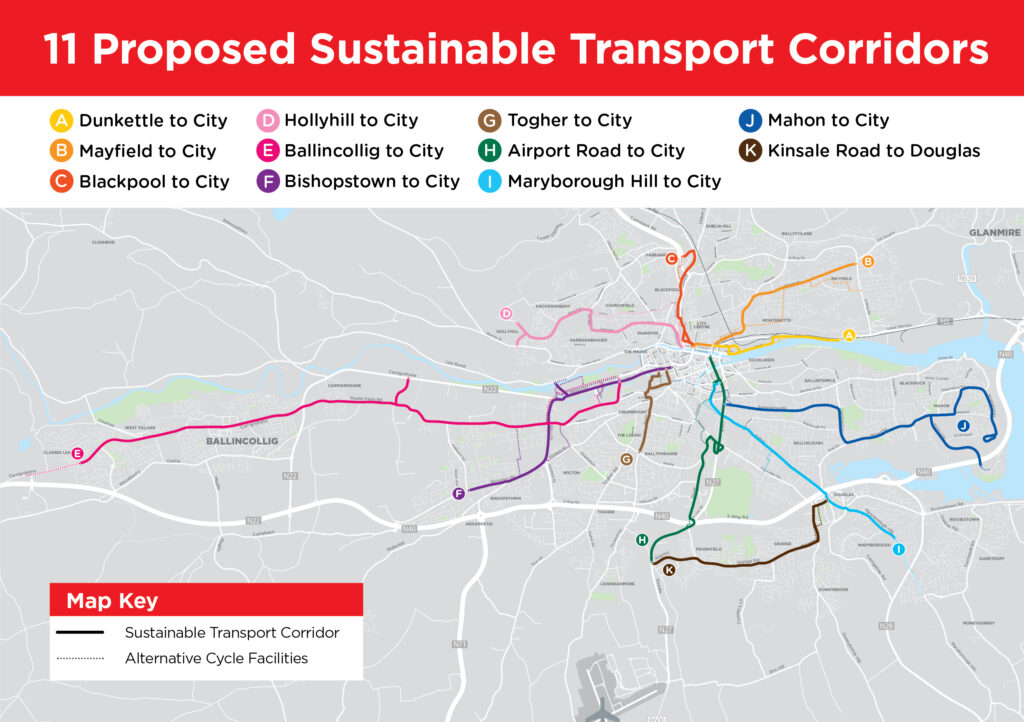 Document Library 3rd Round of Consultation
3D Visualisations of Bus Connect STCs
To view the visualisations of the Cork STCs click on the following link, Cork 3D Visualisations.
How to engage
We are inviting submissions in relation to the Preferred Route Options set out in the brochure for each STC, tell us what you think by clinking on the Consultation Portal link below. The closing date for submissions is Monday, 18 December 2023. To make a submission click on the link below;
Public Information Events
A number of public information events will be held where you can come along and discuss the preferred route options in detail, details of these events are below.
Community Forums
The NTA is fully committed to working with all interested parties in the development of the Sustainable Transport Corridors. We want to keep everyone on the proposed Sustainable Transport Corridors fully in the picture at all times. As such, Community Forums were established for each corridor. The aim was to create two way communications with local communities allowing information and feedback to be relayed clearly, quickly and accurately.
Membership of each forum will comprise of TWO representatives from resident and community associations, disability and special interest groups and business organisations on the corridors, along with local public representatives. As places are limited, only two representatives per group can be accepted.
Email corkstc@busconnects.ie to register interest with:
If you would like to view the documents and information from the second and first rounds of Public Consultation for the STCs click on the links below, the background documents are also available to view.